Learn About the Tools SEO Experts Use
Bruno Dangelo is an expert at Dahseo, an SEO agency based in Uruguay. In this post he discusses the tools he and his colleagues use. It has been translated and published, with permission, from the original Spanish.
When we talk about SEO, there are hundreds of tools we could use for it. Here, I'm going to enumerate some of them, ordered according to the function they perform.
In this list you will find some SEO tools that are free to use and some that require payment, but most of them offer free-access versions with some limitations or trial periods. With these, you'll be able to see their potential value before deciding to spend money on them.
Having good tools means we avoid spending more time researching problems than necessary, and, in some cases, it also gives us access to information we otherwise could not get.
In this blog post, we will look at four different kinds of SEO tool:
Performance testing
Keyword research
On-page SEO analysis
Backlink analysis
However, a tool is always a tool.
What is truly important is having enough knowledge and experience to know what to do with the tools and the information they provide.
Let's get to the list!
Performance Tools
We know how much importance Google gives to loading speed and the performance of a website or page.
But something that is even more important to think about is how performance affects visitors. Maintaining the speed of your website is the best way to avoid them waiting around.
Pingdom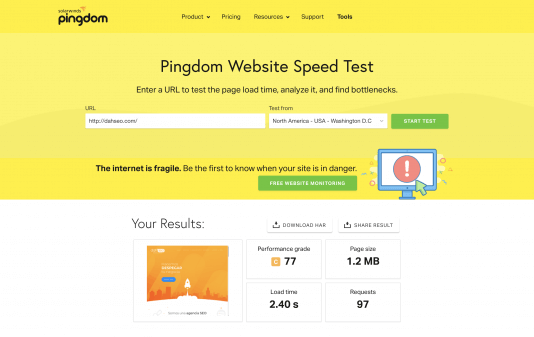 One of the oldest and more trustworthy tools for speed measuring.
It not only give us the estimated time that our website is delayed in loading, but also information that is really important, such as:
Requests (file calls)
Page size (weight)
Performance grade (and optimization score)
It lets you select different locations for the tool to perform the tests, so you can try it in the locations from which your users visit in order to get a better idea of how your site performs to those users.
It has a free and a paid version — the paid version can, for example, set up alerts so we are notified when a site goes down.
PageSpeed Insight
👉 https://developers.google.com/speed/pagespeed/insights/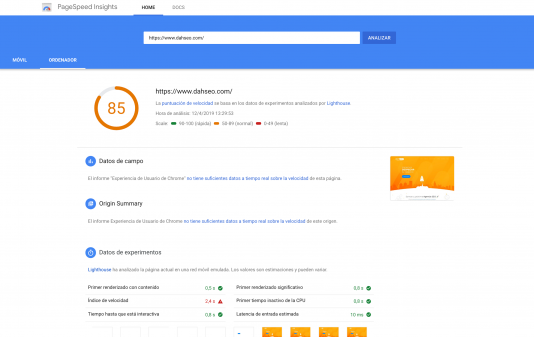 We consider this a very important tool within our group. Why? Because it is a free and easy-to-use tool from Google to measure how optimized your site is.
While the tool provides information about the loading speed, the most important features are its recommendations on what to improve and the optimization score that it provides.
It can evaluate both the desktop and mobile versions of your site.
WebPagetest
👉 https://www.webpagetest.org/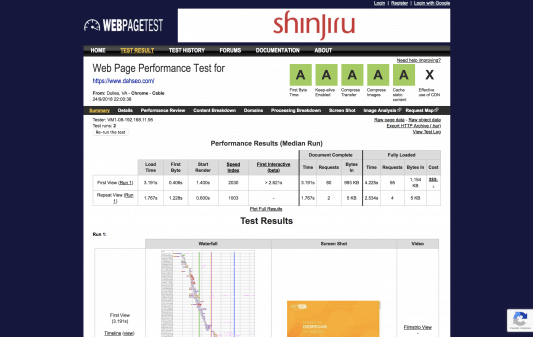 Perhaps one of the most advanced and complete tools to measure performance of a site. We can use it in a simple way to obtain basic (but valuable) data, or we can go a little further and get more advanced details.
Not only does it allow us to measure our website speed from different places, it also allows us to do it with a variety of connection speeds, devices and browsers — something extremely important considering that, today, our users can visit us in a variety of different circumstances.
We can identify which calls/files are being slow in the load or response; we can analyze what level of caching we are reaching on our sites. It provides an near-endless list of detail and we consider it a an essential tool.
Editor's note: take a look at our article on how to get started with WebPagetest if you're interested!
Yellow Lab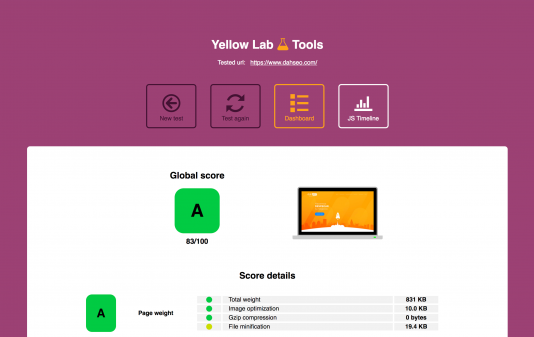 Another detailed tool that can help us a lot in optimizing the performance of a website. It allows us to analyze URLs individually, giving us ratings based on how well we have (or have not) optimized it.
Its analysis features more than 50 different individual aspects, with detailed information on each of them. It also supports simulations for mobile, tablet and desktop experiences.
The tool is free, does not have a paid versions, and was created by Gaël Métais. It is an excellent tool that complements other performance reports.
Keywords Research Tools
One of the initial stages of any SEO strategy is to carry out a keyword research study. Investigating and selecting the right keywords is a fundamental step in the success of an SEO campaign.
Not only will it allow us to discover and position ourselves with the most important keywords, it will also provide us with information to diagram the correct web structure of our site.
Google Keyword Planner
👉 https://ads.google.com/home/tools/keyword-planner/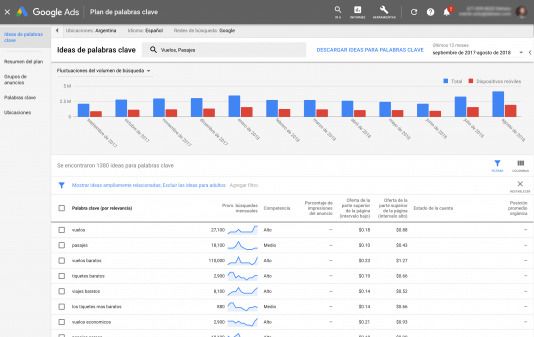 This is Google's official tool to conduct keyword research.
It's used by Google Ads users who run advertising campaigns in Google, but SEO experts can still borrow from it.
Why do we advise using it? Because the data shown is the official Google data. It's free (with registration) and generally works very well. The only problem with it is that if you do not have an active account in Google Ads (ie, an active campaign), it will not show you exact figures but rather ranges. In these circumstances, it can be a bit inexact.
Ubersuggest
👉 https://neilpatel.com/en/ubersuggest/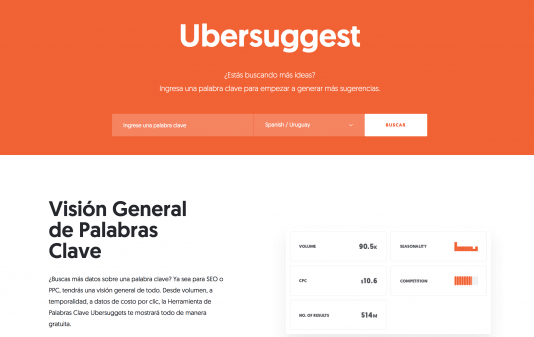 A classic tool for keyword research, and one that has kept up with new demands in the area. It's an essential tool we recommend, especially considering that it's free and it produces high quality data.
After entering keywords that you want to investigate, it allows you to specify both a country and language you want to investigate, to better contextualize the results.
The results screen itself has a lot of information (eg on related words, volume, trends) but perhaps the most interesting data it returns is the 'difficulty' level of those keywords. In other words, it runs its own calculations and then gives you an estimation about how easy it would be to position highly in the list.
KWFinder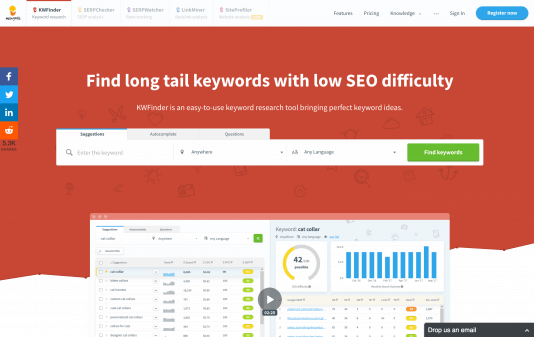 On the subject of SEO difficulty, we have another tool that can assist you with this. KWFinder is one of the most used tools in our agency when researching keywords. It is not free, but you can do a limited amount of daily research at no cost.
One of the key benefits is how easy it is to use. It also has a powerful ability to investigate keywords in both a specific way and in bulk with the large amounts of data it returns. This can be very important in decision making.
We can obtain data specifying language and country (and, in some cases, city). We can also get back a difficulty rating from 1 to 100, enabling us to determine whether we will be able to position ourselves highly in search results.
It is part of the Mangools SEO tool suite, and I include a number of their tools in our list.
On-Page SEO Analysis Tools
On-page SEO refers to the work that can be done to the content, meta-content and HTML structure of a page to optimize it for search engines. Having good on-page SEO optimization is an essential requirement in any web positioning strategy. These tools will help us identify potential improvements in the technical SEO of a website, as well as help us carry out SEO audits.
There are a lot of tools in this sphere, so I'll name some of the ones we recommend.
SeoQuake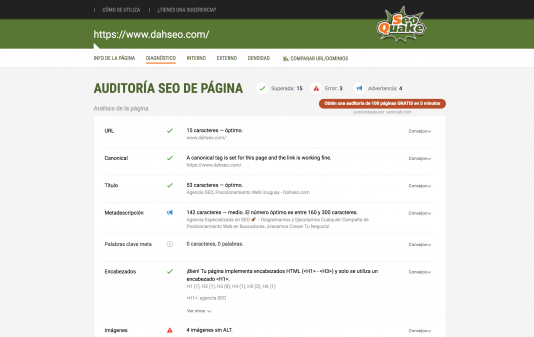 Another classic SEO tool. Technically, rather than being a website, it is a toolbar that you can install in your browser for free.
Among its functions is the ability to perform a mini-audit locally on any site you visit. It allows you to analyze both internal and external links, see the smallest detail about the content on the page, and make comparisons with other pages.
It is available for Chrome, Firefox, Safari and Opera.
SiteProfiler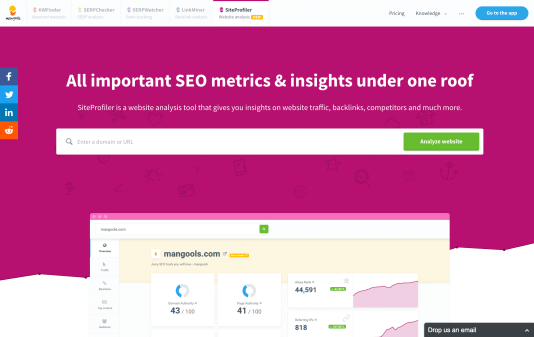 Although the tool does not indicate on-page recommendations, it does allow us to perform a global analysis on a website, providing us with very valuable information. It is not free and belongs to the Mangools suite of tools, but it does allow you to run two analyses every 24 hours without the need to register or pay.
The tool connects with different databases and lists information in an orderly and visually pleasing way.
Some of the things it has in its reports include:
Estimated traffic to the website (source, length of stay, page views, etc)
Analysis of backlinks
Virality of content
Analysis of audience
Comparison with competitors
Google Search Console
👉 https://search.google.com/search-console/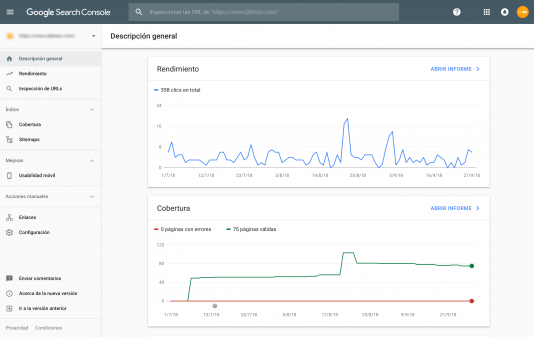 Formerly known as Google Webmaster Tools, this tool is fundamental to any SEO toolbelt. It is from Google and offers very valuable information about how well your site is performing on their search engine. The service is free but you're required to register and prove that you are the owner of a site.
It is very powerful and offers large amount of data and functionality, such as:
Metrics on the behavior of your site in Google's search engine
Information on backlinks
Problems with content
Duplicate pages
Notifications if your site looks like its been hacked
Screaming Frog
👉 https://www.screamingfrog.co.uk/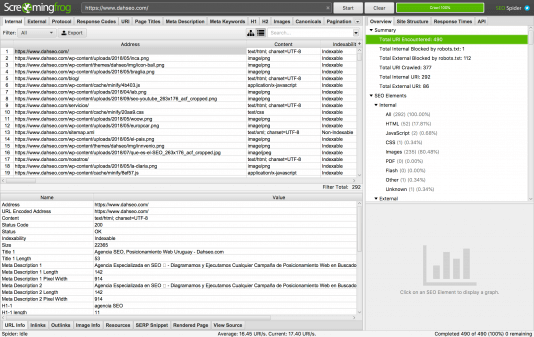 Probably the most used tool in our agency, Screaming Frog is software that enables you to perform a very deep analysis of all the content on your site.
Its main function is to crawl an entire site, including all types of files (HTML, CSS, JS, images, etc), collecting data on each one, allowing us to find errors and generate reports.
There is a lot of basic information it offers, but its true power is realized by advanced users who have learned how to use the tool and know what to look for.
It is not an online tool, and needs to be installed on your machine to work. There are versions available for Windows, Mac and Linux, and the free version limits you to the first 500 files it finds.
Backlink Analysis Tools
The backlinks of a website are inbound links that provide traffic to your site from other sites. Backlinks are important for SEO positioning because they help validate the legitimacy and relevance of your site. Getting this right can mean a boost for your site; getting it wrong could mean a penalty.
While you can also study your site's own backlinks (eg through the previously mentioned Google Search Console), you can also use tools to analyze your competitors' sites and discover new strategies.
Link Explorer
👉 https://analytics.moz.com/pro/link-explorer/home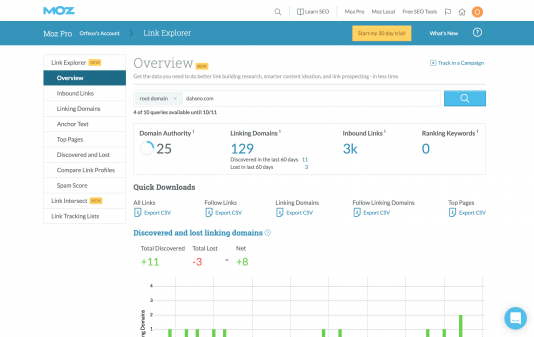 Formerly known as Open Site Explorer, it is developed by industry experts Moz and is one of the most comprehensive backlink analysis tools available. However, while it has a lot of detail, it seems to occasionally find fewer backlinks than other tools.
Its power lies in the fact that it has several proprietary metrics such as domain authority and page authority, with which it indicates how highly it expects your site and its individual pages to rank on search engine result pages. It also provides valuable insights on potential penalties you might face by highlighting potential spam pages and whether you have any dangerous backlinks.
You can also use the tool to analyze your competitors, and, in particular, you can make use of their 'link intersect' tool, which allows you to discover potential backlink opportunities that your competitors might be taking advantage of.
The tool is not completely free but if you register you can use it to perform a limited number of analyses for free; the paid version also has a trial period, if you want to test out the full tools before buying it.
LinkMiner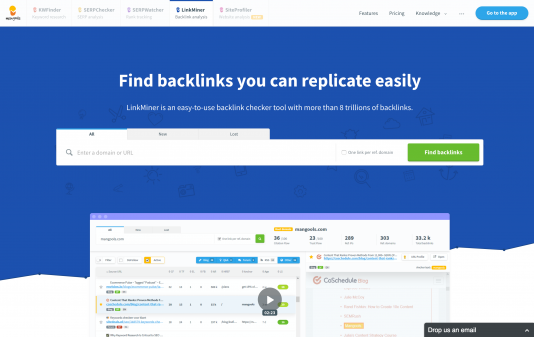 Another tool in the Mangools suite, and one of our favorites for two reasons:
They use the Majestic index
Their proprietary 'link strength' metric is very useful
Like all Mangools tools, they have taken care to make sure it is well-designed and user-friendly. After entering your desired page URL, you can get a snapshot on what pages are linking to it and how much link strength they are contributing. You can use the link strength to quickly work out what your most valuable backlinks are, as well which ones are helping out your competitors.
Furthermore, one of the benefits of using the Majestic index is that you can find out which links you've gained or lost recently.
The tool is not free, but you can perform a limited number of analyses for free without registering or paying.
Ahrefs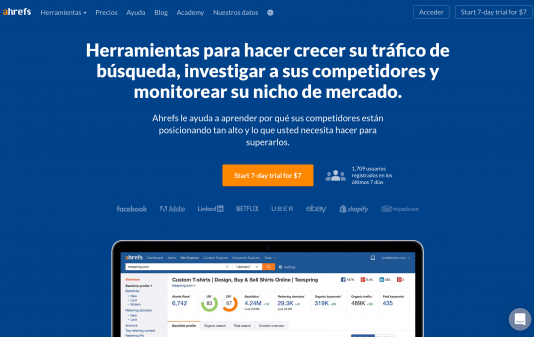 Similar to the Majestic index, this tool maintains a massive database of backlinks that, we think, provides more backlinks than any of the other tools.
It has a number of useful features, but some in particular that we like are:
Rank tracker — a complete tool to track keywords
Keywords explorer — allows you to discover and analyze keywords
Site audit — generates a comprehensive report on your site covering over 100 different factors
It does not have a free version, and the trial lasts seven days, after which you'll be charged $99 USD a month.